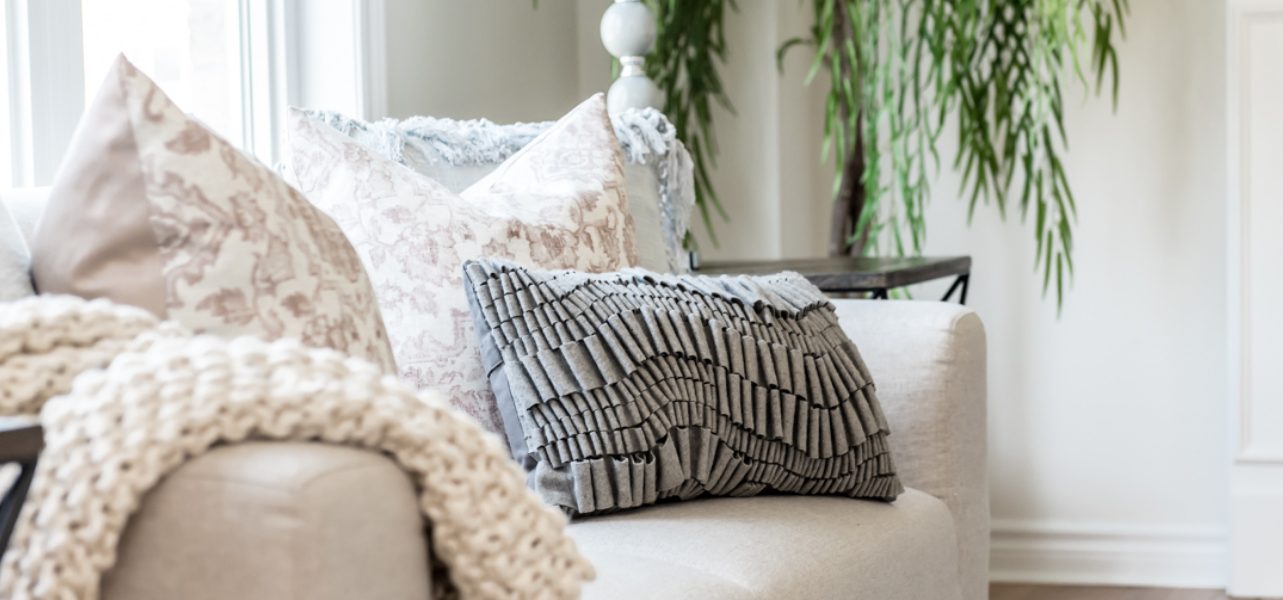 Why should I hire professional stagers instead of doing it myself?
It's difficult to be unbiased in your own space; in fact, both Kelly and Krista hired outside stagers to stage their respective homes when selling. Having a professional, subjective eye will help depersonalize your space so that it appeals to all kinds of buyers.
What qualifications as home stagers do you have?
Kelly and Krista are professional Designers, Decorators, and Photographers, and have taken numerous staging courses. They are members of the Real Estate Staging Association (RESA).
Can I see samples of your work?
Please see our social media platform links below:
I.G. @designed.to.sell
F @designedtosell.durham
HOUZZ www.houzz.com/pro/dts1234
How can home staging help my property sell faster and for more money?
Home staging minimizes the negative aspects of a home and accentuates the positives (every home has both). Staging shows potential buyers how a room could be used to its maximum potential and removes a buyer's negotiating power. Home staging also makes your professional photos picture perfect, which is important because 100% of buyers search online for homes first.
How much does staging cost? Are there different tiers?
Costs vary based on the size of the home but typically a vacant room is priced at $695.00. Occupied is $350.00, and an accessory package is $250.00 per room.*
*Prices are subject to change. Please contact us for the most up to date pricing and quote for your property.
What are the benefits to staging before listing a home?
Staging before listing ensures that you are putting your best foot forward before your listing goes live. Photos are taken just before a home goes on the market; having your home staged before photos are taken ensures that your property looks great and attracts the most amount of traffic.
How long will the furniture and décor pieces you install during the staging remain in my home?
Our staging pricing reflects a 6-week rental period (you pay for 4 and we give you 2 free). After that, the renewal rate is monthly.
Is there anything the homeowner needs to know or do prior to staging taking place?
Just to be open minded and know that we are here to help you sell your property quickly and for the most amount of money. Our advice and expertise will address potential repairs, upgrades and removal of items from the home prior to us returning for physical staging.
What if I'm unsure how to decide between staging or virtual staging?
We always suggest on-site staging first, as the optimal choice; however, if this is not possible or not in the budget, virtual staging is a great second choice.
Which cities do you serve? How far will you travel?
We serve all of Durham region including: Pickering, Ajax, Whitby, Oshawa, Bowmanville, Courtice, Newcastle, Port Perry, Uxbridge as well as Peterborough, Cobourg, Markham, and the GTA.
How does the virtual staging process work and what do I need to provide DTS?
You provide DTS with a professional photo of a room that includes at least two walls (preferably three), including some of the ceiling and some of the floor in the photo (standard practice when using professionally shot images). Photographs should be taken in landscape orientation versus portrait and we will use our design software to add furnishings, décor, artwork and soft goods. We follow design and staging principles that showcase the full potential of a room. Our virtual staging is to scale and will therefore provide buyers with a true depiction of the room size and overall potential.
Does Virtual Staging look real?
If the image provided has the required perspective (minimum 2 walls, ceiling and floor) and the virtual staging is done by someone who has design knowledge, then you shouldn't be able to distinguish between virtual staging and actual on-site staging.
How long does it take to have a room virtually staged?
We can typically have your virtually staged photos back to you within 48 hours.
Do I need to provide a photo of an empty room or can the room have furnishings, etc. in it?
An empty room is your most economical solution; however, we are happy to edit out any existing furnishings, etc. Costs are dependent upon the amount of editing required and typically vary between $35.00 – $50.00 per image edit.
Do you have a minimum number of images?
Yes, we have a 3 image minimum for virtual staging. This can be 3 separate rooms, or even 3 vantage points of one room.
Can DTS photograph the rooms for virtual staging?
Absolutely! DTS has professional real estate photographers and can photograph both the interior and exterior of your home for your MLS listings. Please see the Professional Real Estate Photography page for further information, or contact us directly.
Why should I hire DTS?
We have 25 years of collective training and experience, and our knowledge base ensures you will get the final result you are looking for. With expert eyes on all of the finer details, nothing is missed.
Can I see samples of your work?
What is the interior design process like?
It all begins with a consultation. Once a budget is determined, a retainer is put in place and we start working on your project. You can expect to receive mood boards as well as 2D and 3D floor plans to help you envision your rooms brought to life. After approval of all items in the final design, boards are selected and we start organizing any renovation work while we begin the procurement process. Once all of the renovations are complete, we take a day to install and style. You come home to a dream room ready to live in.
What can i expect during a working consultation?
We are going to review your existing floor plan, recommend a new one if that is warranted
We can discuss window coverings to match architecture and style of home
Choose paint colors for the whole house
Guidance on additional lighting requirements
Furniture needs
Furniture layout for regularly shaped rooms
Discuss possible built-ins or millwork that might be considered
Answer all your design related questions.
At the end of two hours, we will have a great idea of the scope of your project.
Why should I hire someone else to help me with my personal design taste?
Most people can define what they like but don't know how to bring their vision to life. Often your unique design style is a combination of several design styles. Our knowledge helps us meld these styles so that the finished product is cohesive, intentional and a total reflection of you.
I don't really know what my style is. Can you help?
Yes, we can absolutely assist with this. Our questionnaire will help us help you define your own unique style so that we get it right for you.
Can I integrate my favourite pieces of furniture and décor that I already own into the design plan that you come up with?
In most cases, yes! We love working with cherished pieces of furniture, art and décor and will often use this as a jumping off point for the design process.
Which cities do you serve? How far will you travel?
We serve all of Durham region including: Pickering, Ajax, Whitby, Oshawa, Bowmanville, Courtice, Newcastle, Port Perry, Uxbridge as well as Peterborough, Cobourg, Markham, and the GTA.
What are the benefits of Real Estate Photography?
There is no substitute for professional photographs. Having professional real estate photography done is a small investment that will show off your client's home in the best possible light. Professional photographers use specialized equipment with wide angle lenses and professional editing that ensure the photos are highlighting the best features of your client's home.
How much notice is required to book a Real Estate Photography session?
For the most part, we can work on a short turnaround time. We prefer to have a few days' notice; however, we will work with your urgent needs as they come up.
What is the turnaround time for the photos and virtual tour?
We need a minimum of 24 hours to edit your photos, create a virtual tour and produce a detailed floor plan. In some instances, we can produce them sooner; however, we like to say 24 hours to set our clients' expectations appropriately.
How will the photos and virtual tour be delivered to me?
Once we have edited your photos, they will be shared with you through a downloadable link. Links for the branded and non-branded virtual tours will be emailed directly to you.
What are the packages you provide?
We have several packages that range in price from $199.00 up to $649.00, depending on the features you require. We offer still photography, videography, drone, floorplans and Matterport 3D tours.